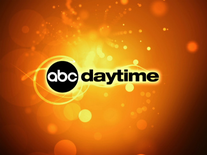 Welcome to ABC Daytime Wiki
ABC-Daytime Wiki is an encyclopedia that is based on the soap operas produced by ABC. The three main ones are General Hospital, One Life to Live, and All My Children. There are others covering each specific show but being that the show cross over, I wanted to put them all on one wiki. PLEASE HELP US GET STARTED!!!!!
Merger Idea - 1/23/13 - 518pm CST, revised 4/7/13 - 1000 CST
ABC-Daytime Wiki (Hyphen)
ABC-Daytime-2 Wiki (Hyphen 2)
ABC-Daytime-Two Wiki (Hypen Two)
ABC Daytime Wiki (without a hyphen)
All four look promising, but lack completeness and isn't fully up and running like some of the other wikias.  I was thinking merging these into one, so we can pull our resources to one site and might not have to do double work.
Maplechild91
NEWS
General Hospital NEWS
[
]
All My Children NEWS
[
]
AMC bids farewell to a LEGEND!!!

James Mitchell

(

Palmer Cortlandt

, AMC) has died at 89 years of age. Palmer's funeral will not air until early Spring.
DIXIE'S BACK!!!

Cady McClain

(Dixie Cooney) is returning for a short term appearance in early MARCH. Hopefully it will coincide with James Mitchell's memorial.
One Life to Live NEWS
[
]
Prospect Park signed the following actors to the 2013 reboot of OLTL;
   Erika Slezak as Victoria Lord Buchanan
   
Robin Strasser as Dorian Lord

   Tuc Watkins as David Vickers

   Robert S. Woods as Bo Buchanan
   
Kassie DePaiva as Blair Cramer

   Jerry verDorn as Clint Buchanan

   Florencia Lozano as Tea Delgado
   
Melissa Archer as Natalie Buchanan Banks
   
Hillary B. Smith as Nora Buchanan

   Kelley Missal as Danielle Manning
   
Josh Kelly as Cutter Wentworth
   
Andrew Trischitta as Jack Manning

Recurring Status
   Sean Ringgold as Shaun Evans

   Shenaz Treasury as Rama Patel

   Nick Choksi as Vimal Patel

References
New pages
Helping out
Contribute
To write a new article, just enter the article title in the box below. Caution: Search for the article first, to make sure it hasn't already been created.
Not sure where to start?
Adding content
Talk and more...
Check out the community portal to see what the community is working on, to give feedback or just to say hi.