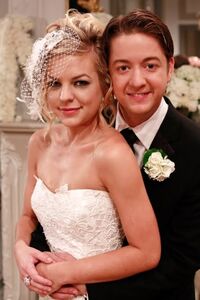 Damian Millhouse Spinelli and Mariah Maximilliana "Maxie" Jones are fictional characters and a supercouple[1] from the American daytime soap opera, General Hospital. Spinelli is currently being played by Bradford Anderson. Maxie Jones is currently being portrayed by Kiresten Storms. In 2009, Maxie and Spinelli had the first ever non-wedding.
Background
[
]
Damian Spinelli was bestfriends with Georgie Jones (Lindze Letherman) who secretly had a huge cush on him. Spinelli was completely oblivious to this fact until Georgie is murdered by Diego Alcazar. Georgie's sister, Maxie Jones (Kirsten Storms) who never really like Spinelli, but just tolerated him turned to him for support. The couple ended up bonding over their love for Georgie and eventually fell in love.
Casting
[
]
In September 2006, General Hospital put out a casting call for a "college-aged kid" who was a cross between Seth Green and Spicoli, a character played by Sean Penn in Fast Times at Ridgemont High. The part was won by Anderson, who says he tries to emulate Spicoli's speaking style when playing the character. Spinelli's dialogue, a rapid-fire mix of surfer lingo and Internet slang, has offered comic relief, and an unusual "tech-savvy" character to the show, that has been called "one of the quirkiest characters daytime has ever seen."[2] Anderson says that he generally doesn't improvise the part, instead sticking to the script that is supplied a couple days before filming. The name of the specific writer or writers who create Spinelli's dialogue have not been identified.[3]
Anderson initially played the character on a "recurring" (non-contract) basis, but the character has proved popular[4] and actor Bradford Anderson was offered a multi-year contract,[5] which he accepted in May 2007.[6] The character was added to the opening credits sequence on July 6, 2007.
There have been disputes about whether to spell the character's name "Damien" or "Damian". In the show's closing credits he is referred to as Damien, but in a scene from General Hospital, where Spinelli is holding a business card, it is spelled "Damian."
Spinelli is close friends with Jason Morgan and Sam McCall, and he is in love with Maxie Jones.
Spinelli is also one of the crossover characters that appeared in the Summer 2007 season of General Hospital: Night Shift.[7]
The character of Maxie was initially portrayed by child actors Chelsey and Kahley Cuff from 1990 to 1991, Ashley and Jessica Clark in 1992, and Elaine and Melanie Silver from December 1992 to 1993. Robyn Richards assumed the role in 1993, but the character was later aged and recast with Danica Stewart in March 2002.[8] Fan disapproval resulted in the rehiring of Richards from August 2002 to July 16, 2004. Maxie was later recast again with Storms on May 23, 2005.[8]
Reception and Impact
[
]
References
[
]