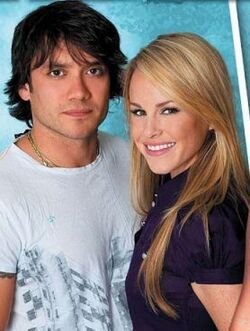 Dante Angelo Falconeri and Lesley Lu "Lulu" Spencer are fictional characters from the ABC daytime drama General Hospital, and have been deemed a supercouple since their on-screen romance began.[1][2][3] Lulu, the only daughter of famous supercouple, Luke and Laura, is currently being portrayed by Julie Marie Berman. Dante, the long-lost son of mob boss Sonny Corinthos is currently being portrayed by Dominic Zamprogna.
Background
Backstory
Lulu (Julie Marie Berman) had been paired with many different characters before Dante (Dominic Zamprogna). She is first with her stepbrother, Dillon Quartermaine (Scott Clifton), in 2005 when she breaks up his marriage to Georgie Jones (Lindze Letherman). In November 2006, the producers began teasing fans with the idea that Lulu would be paired with newcomer Bradford Anderson, who was playing computer geek Damian Spinelli, but the characters stayed friends. The show soon paired her with Logan Hayes (Josh Duhon) who was later revealed to be the long-lost son of her father's longtime enemy, Scott Baldwin (Kin Shriner). In 2007, Johnny Zacchara (Brandon Barash) breaks up Lulu and Logan. Fans seemed to get behind the pairing but, within the story, Johnny decides he is not good for Lulu when she kills Logan in self-defense and ends up in a mental hospital.
The difference with Dante and Lulu is that there is not a third party. Neither of the characters are in a relationship at the time when they meet. The Spencer and Corinthos families also have a history. Sonny Corinthos was scripted to marry Luke Spencer's niece, Carly Benson, and the on again/off again pairing have two children together; Sonny & Carly are also a supercouple. Sonny and Luke have been friends ever since Sonny inherited the organization of Frank Smith, who Luke worked for in the late 70s.
Casting
Since the announcement of the character in the summer of 2008, there has been much speculation about who would portray the character of Dante. First Tom Pelphrey was considering the role. He had just relocated to California leading fans to believe he was joining the cast. Pelphrey later released a statement saying he wanted to seek work outside of daytime.[4] Then in October 2008, it was announced that David Lago had reportedly been cast as Dante. All seemed to be going well except for the fact that Lago had never actually signed a contract and the deal fell apart.[4] Lago instead returned to his former job as Raul Guittierez on The Young and the Restless. In late spring of 2009, it was announced that Canadian actor Dominic Zamprogna had been cast as the character of Dominic. Seeing that the character had the same name as the actor led to much speculation among fans. On July 8, 2009, Dominic is confirmed to be Dante Falconeri.
The character of Lulu had been played by numerous child actors since the character's on-screen birth in August 1994. In 2005, the character is Sorased and Julie Marie Berman is takes over the role of Lulu. Berman earned her first Daytime Emmy nomination in 2005 shortly after her debut. In 2009, she won her first award for Daytime Emmy for Outstanding Younger Actress for her portrayal of Lulu.
Writing
General Hospital headwriter Robert Guza, Jr. had fans glued to their televisions with the start of this iconic pairing. The history between the two families alone would make for a great story. According to a statement made by Guza in a soap opera magazine, Dante & Lulu always felt that it was them against everyone else and now it literrally comes to that. With the exception of Olivia and Luke, to some extent, the couple would face the wrath of family and friends over Dante turning Michael in to the cops. One of the positive things that happens in this whole (Michael story) arc is this strongly reinforces Lulu and Dante's connection in a big way."[5]
"
Lulu and Dante are a couple we are committed to...you can expect their romance to flourish during this sweeps period and throughout the year. These two are now connected more than ever before.
"

—Robert Guza, Jr.[6]
Storyline
Lulu Spencer meets '''Dominic Pirelli''' in July 2009 at the local bar, Jake's. Though Lulu appears to be annoyed by his cockiness and cheesy pickup lines, she pays more attention to Dominic when her brothers Lucky (Greg Vaughan) & Ethan (Nathan Parsons) demand that he stay away from her. After they beat him up for mouthing off, she takes him to General Hospital and leaves him in the hands of the no-nonsense head nurse Epiphany Johnson (Sonya Eddy). The meet up again when Lulu is filling in for a waitress at Kelly's Diner; as Dominic is venting to Lulu about walking in on his mother and her boyfriend in walks his boss, mobster Sonny Corinthos (Maurice Benard) telling to back off. Dominic later finds Lulu at General Hospital after she accidentally glues her hand to her hair. He begins teasing her and Lulu gets him to go away by pretending she is dating, Dr. Matt Hunter (Jason Cook). Dominic later runs in to Lulu at her father Luke's Casino ''The Haunted Star'' and Ethan decides to get rid of him once and for all. Ethan attempts to scam Dominic but Lulu stops him before he can do it. Dominic shows his gratitude and they share their first kiss on August 26, 2009. Dominic later asks Lulu to the General Hospital carnival but she is going with Dr. Hunter. Dominic is assigned as the guard to the Corinthos children, but is his by a speeding car driven by Edward Quartermaine (John Ingle) who has suffered a heart attack behind the wheel. Though it looks like Dominic may need a kidney transplant, he recovers. Dominic later sneaks out of the hospital and when Lulu brings him back, she finds a police badge that he claims he stole. Lulu later finds Dominic spending time on the Elm Street Pier and is shocked when he confesses that Sonny's wife Claudia (Sarah Brown is trying to seduce him. He later opens to her about his childhood hero, Lieutenant Vince Poletti who was like a father to him; Poletti was killed by a mobster. She realizes that Dominic talks about the mob like he despises it which leaves her suspicious of his job choice as Sonny's guard. That night, Lulu is drugged during a photo shoot for her job at ''Crimson'' magazine and witness Dominic's conversation with undercover cop, Ronnie Dimestico. When Lulu refuses to go the hospital, Dominic takes her back to his apartment where they end up kissing but she passes out before anything else happens. Sonny later throws a birthday party for Claudia at which he reveals that Claudia was responsible for a botched hit on Sonny that resulted in his son, Michael (Drew Garrett) being in a coma. Claudia freaks out, pulls a gun and takes Sonny's pregnant ex-wife Carly Jacks (Laura Wright) hostage. Lulu and Dominic team up with Claudia's brother, Johnny (Brandon Barash) to find the two women. They search the abandoned Zacchara mansion hoping to find her but Lulu then falls through the decaying floorboards into the freezing water below. While Johnny goes to get help, Dominic gets in the water with Lulu to keep her warm, because she is stuck. Dominic is forced to confess that he is really Dante Falconeri, the son of Johnny's girlfriend, Olivia and an undercover cop. He also asks her out on a date just before she passes out. Johnny arrives soon after with paramedics. Lulu promises to keep Dante's secret only if he changes his mind about sending Sonny to prison. Lulu is in denial about her feelings for Dante when talking to best friend, Maxie Jones (Kirsten Storms). She and Dante go on their first date to the opera and Lulu is brought to tears by the tragic love story. They almost make love for the first time in the back of the limo but stop when they are interrupted by their driver. Lulu is soon kidnapped by the artist/psychopath, Franco (James Franco). Franco uses Lulu and Sam McCall (Kelly Monaco) as bate for Dante and Sonny's enforcer, Jason Morgan (Steve Burton). As Dante is rescuing her, the building they're in explodes but they make it out alive. Johnny later confronts Lulu saying that he knows about Dominic/Dante and warns her that when everyone figures out she's covering for a cop, it won't be pretty. He then tells Dante that he doesn't want to cause problems for them, but reminds her of all the people she will hurt by keeping Dante's secret, namely her father Luke and her cousin Carly. Dante realizes that he and Lulu can never last because after he turns Sonny in, he will go back to his life in Brooklyn. Dante tries to get her to admit that they never really had a relationship but Lulu refuses which only makes it harder for him to make her leave. Dante overhears Lulu in a phone conversation with Maxie about her crying herself to sleep but she denies it and hangs up. Meanwhile she drops the personal shopping items for her boss, Kate Howard (Megan Ward) and Dante attempts to help her. She wonders why he cares and Dante says he doesn't want to put her in danger. To this, Lulu calls him patronizing and sexist and tells him not to tell her it's over. Lulu later learns that her brother Nikolas is sleeping with Lucky's fiancée, Elizabeth Webber (Rebecca Herbst). This causes Lulu to question her relationship with Dante and he assures her that their relationship is real and that he loves her. On January 29, 2010 while Lulu is standing up as the godmother for Carly's daughter, Josslyn Jacks, Dante finally confronts Sonny. Sonny promptly shoots him from point blank range but is shocked to learn from Olivia that Dante is his son. After a few hours with hearing from him, Lulu goes to Sonny's house but instead finds Dante's badge and cell phone near a pool of blood. Fearing the worst, she confronts Jason about Dante's whereabouts. Lulu then finds Sonny at the hospital and takes all of her anger out on him. Sonny assures her that he didn't know Dante was his son but Lulu doesn't listen to anything he has to say. As Dante is going into surgery, Lulu professes her love. It is later discovered that Sonny's daughter, Kristina is being abused by her boyfriend, (Kiefer Bauer). Because Kristina is afraid of what Sonny will do to Kiefer, she IDs Ethan as her attacker when he rejects her advances. Though Ethan is cleared of the charges, to make matters worse, Kiefer ends up dead. Ethan is blamed for that too but it is discovered that Kristina's mother, Alexis Davis (Nancy Lee Grahn) is responsible. The damage is already done when Ethan gets arrested and beaten to a pulp by one of Sonny's henchmen in jail. Luke is furious and blames Dante, and assures that she may have to choose between Dante and her family. In April 2010, Dante is forced to get Michael (Chad Duell) back to Port Charles) to testify again Sonny who is on trial for Claudia's murder. When Dante finally does bring Michael home, Lulu helps him hide, but Michael later escapes. When Michael admits under oath that it was him who killed Claudia he sentenced to 5 years in prison. Though they are on everyone is against them, Dante and Lulu stand together. The couple makes love for the first time on May 5, 2010.
Reception and impact
The couple was an overnight success with fans and critics alike. The couple earned the name, Lante as their squish name. In May 2010, Berman's brother who owns a bakery in Santa Monica, California revealed that he was inspired by the couple and created a cupcake named after them called the Lante.[1]
References
↑

Made by Guza in an interview for Soaps on Demand in 2010.
External links