Morgan Corinthos

Aaron Saunders

as Morgan Corinthos
General Hospital
Portrayed by
Adonios and Isador Talamo (2003-2004)

Dylan & Jordan Cline (2004-2005) Jake Simms (2005) George Juarez (2005-2009) Aaron Refvem (2009) Aaron Sanders (2009-2010)

First appearance
October 24, 2003
Created by
Robert Guza, Jr.
Profile
Aliases
Morgan Stone Corinthos
(full name)
Gender
Male
Born
October 24 1997
Age
(13)
Occupation
Student
Residence
657 Harbor View Road

Aaron Refvem

as Morgan Corinthos
George Juarez as Morgan Corinthos
Morgan Stone Corinthos is a character of General Hospital. He was named after Jason Morgan and Stone Cates. Though the character was born onscreen on October 24, 2004, he is now 12 after being diagnosed with Soap Opera Rapid Aging Syndrome . The role was portrayed by George Juarez from December 19th, 2005 to February 20th, 2009 before being recast with Aaron Refvem, who debuted as a pre-teenage Morgan on May 12th, 2009.
Character storylines
[
]
Childhood (2003-2009)
[
]
Ric Lansing, the then brother-in-law of Carly Corinthos drugged her and led here to believe they slept together, who soon discovered she was pregnant. Ric marries Elizabeth Webber who is pregnant with his child, but she has a fight with Sonny and suffers from a miscarriage. Blaming his brother for the miscarriage, Ric kidnaps Carly and planned to steal her baby & give it to his wife. Sonny's mob rival, Lorenzo Alcazar, who Carly likes, finds Carly and kidnaps her from Ric. When Sonny finds Alcazar helping Carly give birth, he shoots him but the bullet goes through him and hits Carly in the head as Morgan is born on October 24, 2003. Carly marries Jasper Jacks in April 2007. He and Morgan form a close bond and Jax considers Morgan his own. When his brother Michael is shot, Carly forces Sonny to give up custody of his sons. Carly later eases up and allows Sonny back in her son's life.
Adolescence (2009 - present)
[
]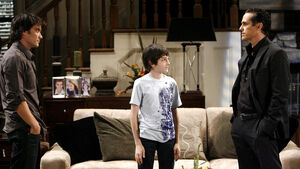 Morgan, now 12 years old, has grown into a thoughtful, helpful boy who loves karate and video games. Overall he is more mellow than his brother and sister which is partly due to his older brother's shooting and coma at such a young age. On June 1, 2009 he was reunited with his brother who, despite his parents worries, treated him exactly the way he had before the shooting. They spent a good happy couple of hours playing video games however Morgan became upset when he learned that Michael wanted to go live with their father and Claudia instead of with them. He told Michael that he hoped they could all work together and help Carly out until the new baby came. Upon consideration of this, Michael changes his mind and decides to go live with his mother and Jax after all. Morgan takes a liking to his father's new body guard, Dominic, who is actually Dante Falconeri, Sonny's unknown son with Olivia. The two bond over the Yankees. On August 31st, 2009 Dominic was assigned to be Michael and Morgan's bodyguard. On September 4, 2009 Dominic accompanies Michael and Morgan to the General Hospital Carnival that is being held to raise funds for the Michael Cornithos Foundation. After Edward Quartermaine has a heart attack while driving and crashes his car through the carnival Dominic saves Morgan's life when he pushes him out of the car's path. Dominic is hit by the car and taken to General Hospital where he is told that he is suffering from internal bleeding. After a couple of days of observation and being in severe pain, Dominic finds out he is fine. Morgan wants Dominic to live with his family until he recovers.
Morgan helps his mother choose a name for his little sister before she comes. Carly finally decides to name the baby Josslyn John [1]. Morgan is good friends with his cousin, Molly, who was also SORASed in 2009. He takes her to the docks once to help her with a science project, and they both find out that Johnny Zacchara is being held hostage there. Molly diverts the guards long enough for Morgan to free Johnny. Johnny takes them home and thanks them for rescuing him, but then rushes off to warn his sister and Morgan's step-mother, Claudia, that she's in trouble.
Josslyn is born on October 29, 2009, when Carly is kidnapped by Claudia. Carly comes home and introduces Morgan to his baby sister. Carly is later upset with Jax when she finds out that he knew that Claudia got Michael shot, and said nothing, and she ends up kicking him out. When she tells Morgan that Jax won't be coming back, he gets angry and yells at her for always taking people away from him. As a result, Carly compromises and lets Jax back in to their home for the sake of her children.
During Thanksgiving, Carly and Jax still have not made up, and Carly decides to take Michael and Morgan to Sonny's house for Thanksgiving dinner, and leave Josslyn and Jax at home. Morgan sabotages both Jax and Carly's cars to force them to spend Thanksgiving together for the sake his little sister.
References
[
]