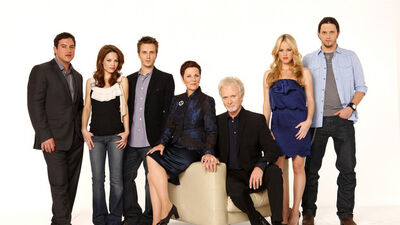 The Spencers are a fictional family on the American soap opera General Hospital. Before the show, Luke and Bobbie Spencer were being raised by there loving mother Lena and an abusive alchoholic father, Tim. One day, Lena had an appendicitis attack and Tim just watched her die. By the time he allowed to Luke to call an ambulance, it was too late, Lena had died; and Tim walked out on his family. Without Tim, the siblings were left in the custody of there father's sister, Ruby Anderson. The family relocated to Jacksonville, Florida which is where Tim and Ruby were originally from. Ruby turns Bobbie into a prostitute and Bobbie ends up getting pregnant; she gives her baby girl up for adoption. In 1978, Bobbie arrives in Port Charles with her eyes on Scott Baldwin the boyfriend of Laura Webber. She brings her brother, the street wise Luke home to distract Laura from Scott. Though they slept together, Scott was still in love with Laura. A drunken Luke rapes Laura in 1979 when he thinks he's going to die. But despite that, the two fall deeply in love and they marry in November 1981. Just before marrying, Laura was kidnapped by the Cassadine family. The couple gives birth to their first child, Lucky, off-screen. In 1993, they return with a ten year old Lucky. They have another child, Lulu in August 1994 Meanwhile, Bobbie goes through multiple marriages, including D. L. Brock in 1983 and Jake Meyer in 1986. In October 1989, she marries Dr. Tony Jones. She adopts his daughter, B. J. Jones who dies at age 7 in 1994. In 1993, the couple adopts, Lucas Stansbury the son of mobster, Julian Jerome and his lover, Cheryl Stansbury after Cheryl's death in a car accident. Lucas is currently living in Seattle. In 1996, two more characters are added to the family tree, including Laura's longlost son, Nikolas Cassadine. Nikolas was born during the time when Laura is being held captive by the Cassadines. Nikolas becomes involved with many women, including the love of his life, Emily Quartermaine and Courtney Matthews who gives birth to his son, Spencer Cassadine in 2006. Lucky has an off/on love affair with Elizabeth Webber, Laura's adoptive cousin. Elizabeth has a son, Cameron who Lucky adopts when they marry in 2005. In 2007, Elizabeth gives birth to another son, Jake whome everyon assumes is Lucky's son. It is later revealed that Jake is the biological son of mobster, Jason Morgan. To keep him safe, Lucky decides to claim the boy as his son. In 2009, Elizabeth begins an affair with Nikolas that results in her getting pregnant. What they don't know is that the child is Lucky's. Also in 1996, they introduce the character of Carly Benson, who is revealed to be the daughter that Bobbie gave up. After destroying her mother's marriage to Tony, Carly becomes involved with Jason and his brother, A. J. Quartermaine. She gives birth to a son Michael in 1997 and she and A. J. marry in 1999. She later marries mobster, Sonny Corinthos who adopts Michael and they have another son, Morgan Corinthos. Carly marries Jasper Jacks in 2007 and they have a daughter, Josslyn Jacks in 2009. In 2005, Luke marries, Tracy Quartermaine and they also introduce his son by Holly Sutton, Ethan Lovett.
Family Members
Edit
First generation
Edit
Tim Spencer (deceased) - The father of Luke & Bobbie. He abused Luke.
Lena Spencer (deceased) - The mother of Luke & Bobbie who died when they were young.
Ruby Anderson (deceased) - Tim's baby sister, who died in 1996.
Second generation
Edit
Third generation
Edit
Fourth generation
Edit
Family trees
Edit
Timothy "Tim" Spencer (deceased)

m. Lena Eckert Spencer (deceased)

Ruby Anderson (deceased)
Community content is available under
CC-BY-SA
unless otherwise noted.